Transport of cats
Your pet is safe with us
You want to move abroad, but don't want to do so without your cat? No problem - we have you covered!

Are you planning a longer trip or moving abroad and want to take your pet with you? No problem! We can help. Your cat must be a part of the journey! To ensure your pet has a pleasant trip, a few things should be considered. We are more than happy to plan and implement the trip and are there for you from the very beginning. We will see which route is the most relaxing for your cat and the best way it can get to you. Your cat will receive an extensive and complete care throughout the entire journey. In general, the transport of cats is a relatively simple process. However, before the beginning of the journey, you should make sure that the cat is healthy and all the requirements are met, in order for both you and your cat not to experience any unnecessary delays.
It is our job to make sure your cat arrives safely and in the most relaxed way possible! Find out your transport price now, without obligation and complications.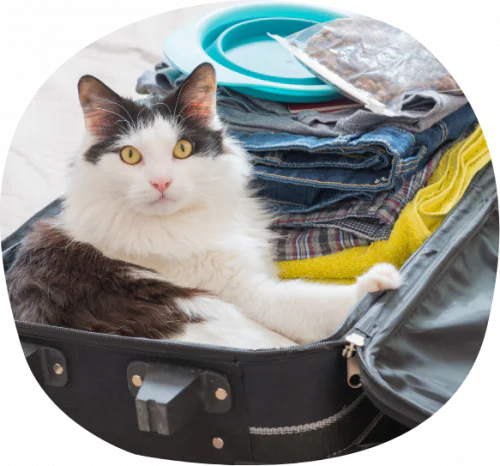 Transport of cats: Planning is everything
Before any plans are made, we must determine your cat's health. Is the cat healthy? Has the cat received all the necessary shots and are all the documents available? We will consult you and inform you about everything needed in order for the trip to take place, along with everything you should pay attention to, in detail and on time. Therefore, it is important to contact us ahead of the trip to allow some time for the preparation.
The choice of the crate is also very important. Here you have to pay attention to the size of the crate and any specific needs of your pet. Your cat will spend several hours in the crate and it is therefore crucial that it is comfortable and the crate is adapted to any individual needs. As a general rule of thumb, the crate should be large enough for the cat to stand upright. Should you wish so, we can make a tailored crate just for your cat. If you entrust us with the transport of your pet, you can be sure that all the rules and regulations of the IATA airline association for cat transport have been observed and that your cat is in the best hands. It is our job to make sure the trip is as pleasant as possible and any unnecessary waiting times are avoided. If you and your pet are traveling on separate aircrafts, our employees will attend to your cat's needs. At PetAir, we care.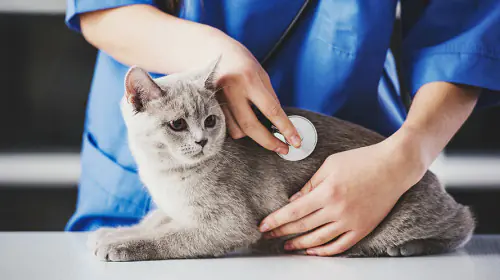 Our services
Transport of cats and more
Animal transport
We care about animal transportation! Your cat is in best hands with our reliable service!
 Read more

Read more

At PetAir, individual planning and consultation are a given. We respect and consider your wishes and requests! We also offer pick-up and delivery service. Contact us!

Pet crates
A suitable crate is very important for your pet's journey and should be adapted to the individual needs. We are happy to consult you and find the right crate for your cat that also meets the requirements of the airlines.
Read more

If you wish, we will also exclusively manufacture a suitable crate for your cat. If you do not want to buy a crate, we offer various ones for rent. Let us help!

Consultation

Given our many years of experience in the field of animal transport for cats, we are familiar with various regulations and entry requirements. Together we will plan the best way for your cat to reach its destination.
Read more

We offer professional, individual and caring consultation. Trust our experience and let us take care of the rest. We look forward to your inquiry!
Interested?
With our online price enquiry form, you can conveniently determine the costs for your animal transport in advance without any obligation.
As soon as we have received all the information from you, we will contact you as soon as possible.
Great service ...
... and professional, no matter where.
- Dieter L.
Send animals... only with PetAir.
Everything uncomplicated and very good advice.

- Lucy
I used Pet Air to ship my fur baby to New Zealand in November ...
... and I could not be any happier with the great service I received. I had contacted a few pet freight companies and Pet Air offered the most competitive, reasonable quote providing the same flight and schedule. Vineet dealt with my enquiry from the beginning to the end and he was always very professional, helpful, informative, quick, going above and beyond to make sure everything is in order. My boy has made it to Auckland sound and safe and will be released from Quarantine tomorrow! Thank you so much Pet Air

- Sal K.