Animal Transport

Insects
Safe shipping of invertebrates with PetAir
Centipedes or millipedes, grasshoppers, beetles, snails, crickets or cockroaches... With PetAir, all insects of various sizes travel. While bees and migratory locusts travel long distances in the wild, your invertebrate pets arrive safely packed on the plane. We at PetAir take care of the correct and species-appropriate transport of your insects.
Whether you're planning a move or an extended stay abroad, you don't have to leave or give away your beloved pet. We support you from the planning and preparation to the journey and arrival, so that you and your insect reach your destination together unharmed. The PetAir team specializes in the stress-free import and export of exotic pets such as insects and reptiles.
Rely on the experts! We know all the specifications and guidelines relating to the transport of live animals and keep an eye on everything that is important for the shipping of your pet.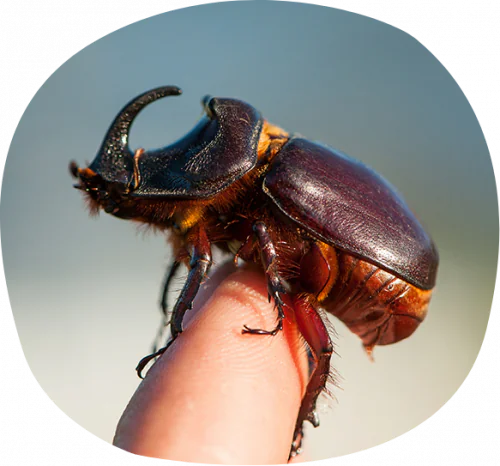 Transport of insects: what do you need to know?
Many of our customers are concerned about the welfare of their pet and are looking for a reliable way to travel with them. At PetAir, we take those worries away from you. Our focus is always on animal welfare and a comfortable and stress-free way to send your pet from A to B.
What needs to be considered?
Traveling is stressful from the start, traveling with an animal all the more so. But that need not be. As soon as you are planning a trip or your move, you can contact us directly. We will advise and support you in planning your trip and take care of all the important travel documents.
In itself, traveling with your invertebrate pet is not a problem. If you take a few important aspects into account, everything will go smoothly during the trip. Before traveling, make sure your pet is healthy and fit to travel. If possible, have your pet's health certified by a veterinarian. This way, your animal can travel comfortably and in a manner appropriate to its species, a securely lockable transport box made of styrofoam or plastic is required, which is padded with newspaper or egg carton and provided with sufficient ventilation holes. The air holes should be very small so that no feelers of bees, house crickets, arthropods or grasshoppers stray outside and the travelers dare to flee . To ensure your pet's physical well-being, you should distribute the right amount of food and liquid in the transport box for the entire duration of the journey. Depending on the invertebrate traveler, a special temperature must be guaranteed. Some insects prefer a constant temperature of around +20 °C to +23 °C, while other species prefer it cooler. In these cases, cooling packs or heat packs can help. It is best to transport different species individually if they are not used to each other. This will avoid rivalries among different invertebrates and ensure a relaxed journey.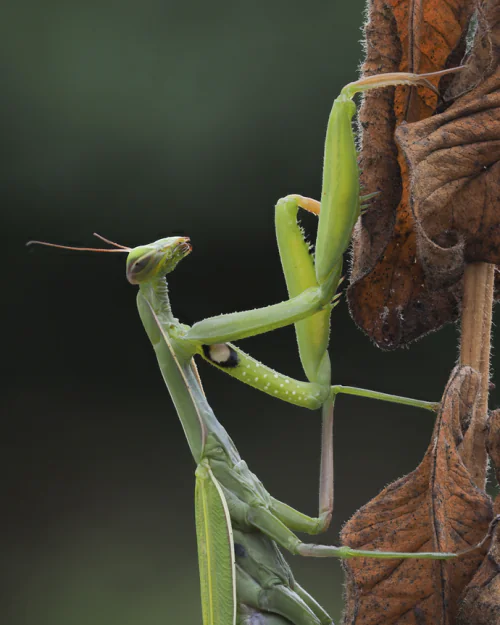 There are about 1 million different insects...
we send them in a way that is species-appropriate & safe.
The world of animals is inexhaustible and insects are probably the most species-rich class. Approximately 60% of all animal species are formed by beetles, spiders, snails, house crickets, mealworms and other insects. They are true survivors who can live even in the most uncomfortable of environments.
What distinguishes them from other living beings?
Insects are among the invertebrates. Their body consists only of a chitinous covering and in most cases can be divided into three sections: the head with a pair of antennae and different mouthparts, the chest with several pairs of legs and one or two pairs of wings on the back and the abdomen, the abdomen being the place where all of the important organs are located. Whether winged insects such as bees and house crickets, arthropods such as centipedes or millipedes or other insects such as snails, scorpions and mealworms - shipping the various species needs special requirements in order to do justice to animal welfare during the journey. All lovers of terrariums can rely on PetAir, because we ensure that your invertebrates are shipped in a species-appropriate and stress-free manner.
Checklist
At a glance: How to successfully ship insects
1. Do you have a certificate from the vet that your pet is healthy and fit to travel?
2. Do you have a suitable transport box that is escape-proof, shockproof, thermostable and appropriate to the size of your pet (styrofoam)?
3. Is this special transport box well padded (newspaper, egg carton) and expandable with additional cooling or heating means?
4. Are there sufficient ventilation holes in the transport box that are not big enough for your animal to could crawl out through them?
5. Very important: Is there a "Live Animal" note on the package? This sticker is essential when shipping live animals.
6. Have you carefully sealed the transport box with adhesive tape?
7. Would you like to send several invertebrates? We recommend that you send animals of different species individually in transport boxes if they are not used to each other or if they otherwise live alone.
8. Is there enough food and liquid in the transport box for the duration of the journey?
9. Have you provided the shipping packaging with accompanying and transport papers on which your address and contact details are noted?
10. Provide additional emergency care instructions (such as proper handling, feeding, and temperature requirements) for your pet. Information about the sedatives administered is also helpful.
Our Services
Insect Shipping & More
Service from the beginning to the end of the trip
We at PetAir are the specialists for shipping exotic pets and will be at your side from the planning phase to the successful completion of the journey. One of our special services is picking up your pet from your home.
Read more

You don't have to worry even after you've handed in your favorite animal. Your pet is in good hands, because PetAir takes care!
Travel comfortably in transport boxes
Your pet will travel safely and appropriately in the right transport box. We'll help you choose the right carrier that fits your pet's size and needs and meets all travel requirements.
Read more

Having trouble finding the right transport box for your invertebrate traveller? We will be happy to help you and make a box especially designed for your pet.
Comprehensive advice
What are the conditions and entry requirements to be observed? Does the transport box fit? We answer all your questions and support you with comprehensive advice when planning your trip with your pets. And we remain your point of contact during the trip.
Read more

Our many years of experience in animal transport have allowed us to learn the most diverse specifications for the transport of all pets. We are trained to ship your invertebrate pet to your desired destination stress-free, safe and intact.
Interested?
Then use our online price enquiry form to get a non-binding overview of all the costs incurred for your pet's trip. Simply check in advance and then book in peace. We are looking forward to hearing from you.n.
We transport every animal!
Great service ...
... and professional, no matter where.
- Dieter L.
I have sent a dog to the United States twice using PetAir ...
... once in August 2016 and again now in January 2018. The service was excellent both times: every question has been answered promptly and competently, I have received all the relevant data (flight numbers etc.) within 24 hours and of all the annoying paperwork, I have only had to deal with the absolutely necessary. The care of the dogs during the transportation was to the point. Given my experience, I can only recommend PetAir.
- Volker S.
Send animals... only with PetAir.
Everything uncomplicated and very good advice.

- Lucy
I used Pet Air to ship my fur baby to New Zealand in November ...
... and I could not be any happier with the great service I received. I had contacted a few pet freight companies and Pet Air offered the most competitive, reasonable quote providing the same flight and schedule. Vineet dealt with my enquiry from the beginning to the end and he was always very professional, helpful, informative, quick, going above and beyond to make sure everything is in order. My boy has made it to Auckland sound and safe and will be released from Quarantine tomorrow! Thank you so much Pet Air

- Sal K.