Transport boxes

for animals
For species-appropriate & safe travel
Going on a trip with your beloved pet can be so nice and at the same time raises some uncertainties. We at PetAir take away these uncertainties and worries regarding traveling with your pet. With us, your pet will go wherever you want. The most important thing? If you want to travel with your pet in a species-appropriate way, move or even just make a quick trip to the vet, you need the right pet transport box.
We at PetAir are experts when it comes to the species-appropriate transport of animals. And we know that this can only be ensured with an animal transport box safely, relatively relaxed and above all in accordance with all applicable laws. That is why we offer you various transport boxes for animals. Together we will find the right one for your animal!

IATA CR82 compliant transport boxes for listed dogs
In order to be allowed to travel by plane, according to IATA and some airlines (example Lufthansa), a special dog transport box must be used for listed dogs. The reinforced CR82 animal transport boxes are made of solid wood and latticed air holes. The bottoms of the CR82 animal transport boxes are covered with a film of hard plastic to protect the wooden box from excrements. To make your pet feel comfortable during the trip, you can of course equip the transport box with a cuddly blanket.
You would like to buy a transport box? Then make your request simply and without obligation via the contact form below. We are looking forward to your message!
We carry different sizes of dog and cat transport boxes:


100 dimensions 52x36x38cm - VK price 50€ net

200 dimensions 65x47x47cm - VK price 70€ net

300 dimensions 80x54x58cm - VK price 90€ net

400 dimensions 90x59x65cm - VK price 110€ net

500 dimensions 101x67x75cm - VK price 140€ net

600 Dimensions 110x60x84cm - VK price 190€ net

650 dimensions 110x60x89cm - VK price 210€ net

700 Dimensions 120x70x88cm - VK price 270€ net

CR82 500 dimensions 100x70x75cm - VK price 600€ net

CR82 600 dimensions 115x65x80cm - VK price 650€ net

CR82 700 dimensions 125x70x80cm - VK price 700€ net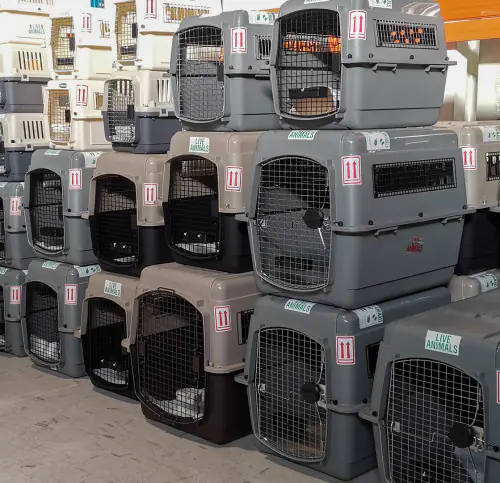 Send us your request for your transport box now