Animal transport

for moving
Transport of dog, cat and co.
You are planning a new start in another country and would like to move? Then, of course, your pet must also come with you to your new home! However, in order to make the journey as pleasant as possible for your pet, you need a specialist at your side who knows all about animal transport. PetAir is exactly the right partner for this and your beloved family member is in safe hands with us. We are there for you from the very beginning and lovingly take care of your pet before, during and after the transport.
With us, you always have the option of all-round support as well. This means that we are also happy to collect your pet directly from your old home and transport it safely to the airport. Our staff will reliably ensure that the animal is transported as comfortably as possible and that you can give your safely arrived four-legged friend a hug again as quickly as possible.
Get a non-binding quote for your animal transport now!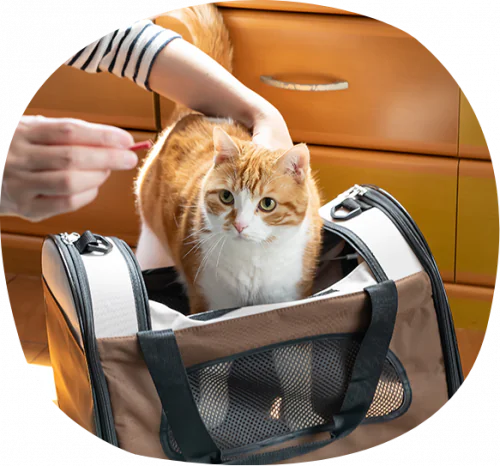 Moving with animal transport: This is how your pet arrives in good health at its new home
Especially when moving abroad, there are a few things to pay attention to when transporting animals. In most cases, the transport of animals runs smoothly, but you should nevertheless ask our professionals about some details beforehand. When booking with PetAir, we will advise you, for example, whether you are in possession of all the documents you need for European or even international travel, or whether there are any vaccinations that still need to be administered before your little pet starts its journey. When you choose PetAir, our staff will take plenty of time to explain everything you need to know about your pet's transport.
However, a suitable box is particularly important for smooth transport, as this is the only way to ensure that your pet can be transported safely. Whether nationwide or internationally: We know what is important, are experienced in transport and can therefore also advise you professionally and extensively on the right box. Put your trust in our professionals to transport your pets! Because PetAir takes care!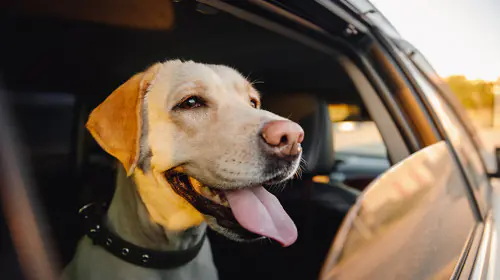 Our services
Animal Transport for moving & more
Animal transport
Moving abroad requires a lot of planning. To ensure that everything runs smoothly with the transport of your pet, we are there for you from the consultation all the way to the implementation.
Read more

Whether a pick-up and drop-off service, our Vet Service or detailed advice on forms, vaccinations and co. - we answer all your questions!
Transport box
Your beloved pet should feel comfortable on the journey to its new home. The matching transport box is indispensable for this.
Read more

We will be happy to advise you on the right transport box and also produce individual boxes at your request.
Consulting
We have the know-how! Trust our competent staff and let them advise you.
Read more

Forms, entry requirements, regulations and co. - we provide you with comprehensive advice on all the important points of your trip.
Interested?
We would be pleased if you would like to place your animal transport in our hands!
You can be sure that we always work in a highly professional and reliable manner to ensure smooth transport!
In order to receive an offer tailored to your needs, you can use our online quote request form now to determine the cost of your transport in advance, without any obligation.
After receiving your request, our staff will contact you as soon as possible.
Great service ...
... and professional, no matter where.
- Dieter L.
I have sent a dog to the United States twice using PetAir ...
... once in August 2016 and again now in January 2018. The service was excellent both times: every question has been answered promptly and competently, I have received all the relevant data (flight numbers etc.) within 24 hours and of all the annoying paperwork, I have only had to deal with the absolutely necessary. The care of the dogs during the transportation was to the point. Given my experience, I can only recommend PetAir.
- Volker S.
Send animals... only with PetAir.
Everything uncomplicated and very good advice.

- Lucy
I used Pet Air to ship my fur baby to New Zealand in November ...
... and I could not be any happier with the great service I received. I had contacted a few pet freight companies and Pet Air offered the most competitive, reasonable quote providing the same flight and schedule. Vineet dealt with my enquiry from the beginning to the end and he was always very professional, helpful, informative, quick, going above and beyond to make sure everything is in order. My boy has made it to Auckland sound and safe and will be released from Quarantine tomorrow! Thank you so much Pet Air

- Sal K.