Transport of birds
Birds know how to fly - so do we!
You are moving abroad and wish to take your bird with you? You have come to the right place!
Are you planning to move or take a longer trip abroad and want to take your bird with? Let us help! Your pet should be a part of any longer journey or a fresh start! To ensure your pet has a comfortable journey, there are things to be considered. We are happy to help and together we will plan and organize the best trip. We are there for you from the very beginning! We will find research which of the possible routes is the most relaxed and how your bird can get to you in the best way possible. During the entire process, your bird will receive an extensive care to ensure all its needs are met. In general, transporting a bird is no issue at all, however you should keep a few things in mind. Before the journey begins, we must ensure your pet is healthy and all the requirements are met. This is how we can avoid any unnecessary delays. It is our job to bring your bird to you safe and sound!
Before any plans are made, a vet should check your bird's health. Is the bird healthy? Has your bird received all the necessary shots and are all the necessary documents available? We are happy to help and inform you about everything you need and should pay attention to, both in detail and on time. For this reason, please make sure to contact us ahead of time, so that all the necessary preparations can be made.
Your feathered darlings arrive safely at their destination with us! Request transport without obligation now and get in touch. We look forward to hearing from you!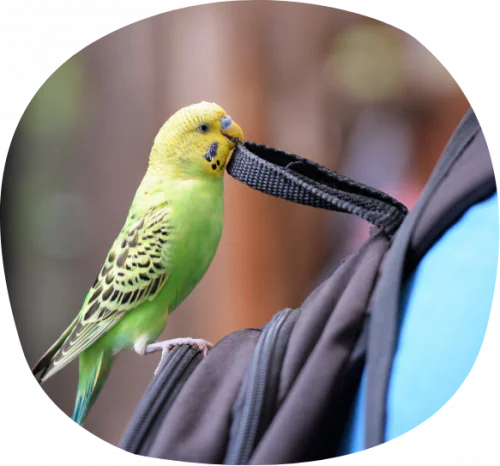 Transport of birds: It's all about the crate
Choosing the right crate is very important. In principle, birds should be transported in a dimmed crate, as this helps calm them down and make the trip much more pleasant. The size of the crate and the attached water and food bowls must, of course, be adapted to your bird's specific needs. In addition, the crate should allow for enough space for your bird's tail, but not too much to ensure none of the feathers are broken or pulled out. The crate must also be made or modified according to the latest IATA guidelines. When transporting birds, some additional things must be considered. For example, you should not put all the food in the crate, as different countries have different requirements or prohibitions. Some countries only allow animals to enter with an import permit. In some other countries, it is compulsory for the pet owner to fly as a passenger on the same aircraft. In general, no anesthetic should be administered and it should be researched which birds are protected species. In case your bird is listed under protected species, you should pay special attention to the export, customs and import regulations. This is the only way to ensure an entry with no issues.
We will ensure your pet's pleasant and relaxed journey, with no unnecessary waiting times and with a good, all-round support - because at PetAir, we care!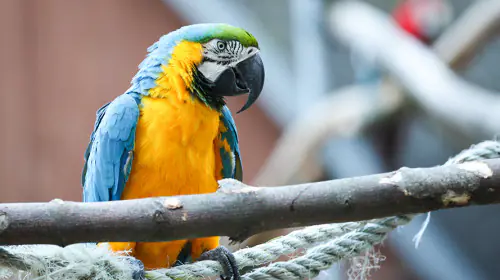 Our services
Transport of birds and more
Transport of birds

If you choose PetAir, you can rely on professional service. A good trip requires a lot of planning. Let us take care of everything!

Read more

If necessary, you can also use our pick-up and delivery service! We are here for you and your pet every step of the way. Contact us!

Pet crate

Not sure which crate to use for the trip? No problem, we are more than happy to help!When it comes to the right crate, it is crucial that it both fits the bird and its needs the best way possible and complies with the guidelines of the airlines.
Read more

Depending on your wishes, we can also manufacture a suitable crate for your bird. If you do not want to buy a crate, we have various ones available for rent.
Consultation

We will organize the best trip for your animal! When planning the trip, we consider all the various entry requirements, regulations and so on.
Read more

We know what's important! Given our many years of experience, we know exactly what to look out for. At PetAir, you get professional and caring advice and service.
Interested?
We would be pleased if you would place your trust in us!
You can use our online price enquiry form to provide us with all the important data directly
and we will then get in touch with you about your animal transport.
We look forward to hearing from you!
Never flown a dog ...
... Great consultation, friendliness and noticeable competence of the employees helped me a lot. As promised, everything went well. Thank you a lot. I would very much recommend.
- Peter B.
Great service ...
... and professional, no matter where.
- Dieter L.
I have sent a dog to the United States twice using PetAir ...
... once in August 2016 and again now in January 2018. The service was excellent both times: every question has been answered promptly and competently, I have received all the relevant data (flight numbers etc.) within 24 hours and of all the annoying paperwork, I have only had to deal with the absolutely necessary. The care of the dogs during the transportation was to the point. Given my experience, I can only recommend PetAir.
- Volker S.
Send animals... only with PetAir.
Everything uncomplicated and very good advice.

- Lucy
I used Pet Air to ship my fur baby to New Zealand in November ...
... and I could not be any happier with the great service I received. I had contacted a few pet freight companies and Pet Air offered the most competitive, reasonable quote providing the same flight and schedule. Vineet dealt with my enquiry from the beginning to the end and he was always very professional, helpful, informative, quick, going above and beyond to make sure everything is in order. My boy has made it to Auckland sound and safe and will be released from Quarantine tomorrow! Thank you so much Pet Air

- Sal K.